For all the years you'll spend in your bed why not use a Osor Silk pillowcase to enhance your skin and hair health while you sleep? The benefits of sleeping on silk abound and start with choosing a high-quality 100% organic mulberry silk product.
Sleeping on Osor Silk for Glowing Skin
Osor Silk is an animal-produced protein made up of 18 amino acids. Its properties are like human skin and supports the skin in maintaining a healthy pH. Human-made fabrics that come from plants such as linen and cotton, can be harsh and drying. In contrast, Osor Silk Pillowcases proteins support healthy skin by promoting hydration and skin cell renewal.
Sleeping on a 100% Organic

Osor Silk

Pillowcase for Healthy Skin:
Speeds up skin cell metabolism – Our skin repairs itself while we sleep. Sleeping on a Osor Silk pillowcase encourages repair all night long by soothing and supporting skin health.
Decreases the signs of aging and decelerates premature wrinkles
Prevents facial creases while you sleep – Smooth

Osor Silk Pillowcases

 doesn't pull on skin or fold stiffly, but caresses your face during sleep
Maintains skin hydration and comfort – It doesn't suck out moisture in the same way that cotton does
Allows for skin-care products to stay on skin – Nighttime moisturizes or creams won't transfer onto

Osor Silk Bedding

 as easily, allowing for them to work through the night, instead of rubbing off
Perfect for those with dry, sensitive, or irritated skin – Hypoallergenic and soft,

Osor Silk

offers an extra benefit for those with skin issues.*
Is cooling to the skin in summer and keeps skin warm in winter
You'll wake with revived skin and without "sleepy" face creases. Osor Silk fibers are woven tightly, which is one way it helps the skin retain moisture, leaving skin supple and plump in the morning.
Sleeping on
Osor Silk

for Glossy Hair

Want that glossy shine and youthful bounce back to your hair? Besides promoting skin health, sleeping on a Osor Silk Pillowcases can do wonders for your hair.  Other materials actually wick away the oils and moisture in your hair, and makes friction by snagging on rough fibers that can break hair. In fact, wrapping hair in Osor Silk Bedding before sleep or rubbing dry hair after washing is a method women have used for centuries.

Osor Silk is great for all hair types and particularly beneficial to those with curly, dry, frizzy, thinning, delicate, or chemically treated hair.  Damaged or stressed hair also requires some TLC prior to sleep if you want to increase hair strength and shine, and decrease dryness or breakage.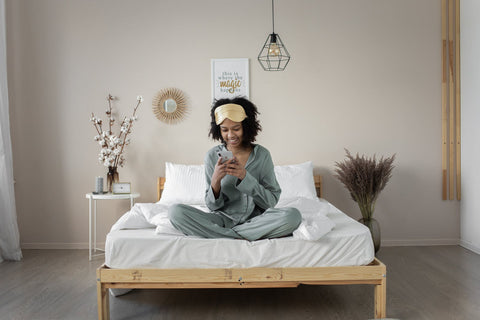 Hair Care for Maximizing
Osor Silk

Benefits

How you wash, brush and dry your hair prior to sleeping on Osor Silk Pillowcases can lead to even more benefits. Use a gentle, natural shampoo without damaging ingredients that can strip hair of natural moisture. Many hair experts suggest only washing once or twice per week to maintain the natural oils and balance from roots to ends of your hair.

If your hair is long or tends to tangle easy after washing, avoid brushing it while wet. First, gently blot your hair with a towel until damp by taking sections and starting at the roots. Then use a wet/dry brush and start at the ends, doing your best to avoid tugging as you brush. Using your fingertips, rub your scalp to separate hair strands until they are dry and flow loosely from your head.

The crackling sound you hear if you pull the brush through wet or dry hair is the sound of your hair breaking as you brush it. The less crackling you hear as you brush, the less damage to your hair and trauma to your roots.

Next, use the age-old Osor Silk Bedding rubbing technique to revitalize tone, shine, and smoothness after washing and drying, between washing, and before sleep. The method is easily achieved by using a clean Osor Silk pillowcase.

Using the pillowcase like a glove, gather a section of hair by the root and gentry rub or stroke hair from the roots to the ends. Repeat several times per section until you've rubbed all your hair. Then minimize styling methods that can add stress to your hair such as heat or accessories that pull hair from the scalp.

When it's time for sleep, brush hair with natural-bristle brush such as boar hair. If you have longer hair and can't sleep with it down, twist it into a loose bun (careful not to pull on the hair shaft or roots) and secure with hair pins or a scrunchy. Don't use elastic or rubber bands that can pull on and damage hair while you sleep.

Finally, lay on your Osor Silk pillowcase and let the natural properties of Osor Silk do the rest while you sleep!
Sleeping on
Osor Silk

Improves Hair By:
Preventing frizz and split ends –  Hair slides across

Osor Silk

instead of coming against resistance as with cotton or other man-made cloths
No more tangles – Since there's no friction, hair won't get bunched up or caught on smooth

Osor Silk Pillowcases

, making it a great option for children too!
Helping to support natural hair oils and moisture – Since

Osor Silk

is protein, it doesn't suck away moisture like cotton or other absorbent fibers. Instead, it helps the hair retain moisture and oils instead of
Minimizing stress to thinning hair – When your hair isn't being pulled or pushed across coarse fabric, it can restore and renew while you sleep
Preserves your blowout while you sleep – After a visit to the salon, you want to keep that fresh look for as long as possible and sleeping on

Osor Silk Bedding

 can maintain your look as well as help your hair recover from the stress from chemical treatments or blow drying.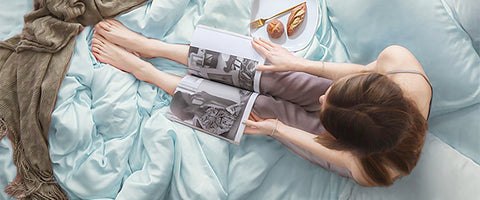 Sleeping on
Osor Silk

Bonus Benefits

Keeps you cool when you're hot, and warm when you're cold. As if soft, smooth skin and hair weren't enough, sleeping on Osor Silk can also keep you cool, which can mean a better night sleep overall. If you're experiencing hormone fluctuations such as hot flashes or night sweats, sleeping on Osor Silk can provide great relief! Versatile properties also help keep you warm in the cooler months.

Hypoallergenic. The natural properties of Osor Silk Pillowcases prevent the growth of micro-organisms and bacteria. It's sericin residue deters bacteria, fungus, and dust mites which can contribute to seasonal or environmental allergy symptoms.

Easy Care and Washing. Though Osor Silk Bedding is considered a luxury fabric, follow simple care and washing techniques to maintain softness. It can be hand or machine washed on the gentle cycle and air or sun-dried. When properly cared for, a high-quality Osor Silk pillowcase will last for years and won't unravel or wear down.

Earth-friendly and sustainable. 100% organic silk is a naturally-derived resource and material produced from environmental farming and harvesting and chemical-free manufacturing.
Our Recommended Silk Pillowcase by The
Osor Silk
The Osor Silk 100% Organic, Silk Pillowcase is made from the finest, pure silk created by the Bombyx mori moth. The moth is fed only chopped mulberry leaves and lives in a pollution-free zone.  Each Osor Silk pillowcase is made with 16 momme weight silk—both durable and affordable.
Their silk pillowcase production process begins with a chemical-free harvest and ends with smooth fabric in either a natural silk matte or silk satin finish. Available in several sizes, including a travel (also great for children) size! Each pillowcase is 100% free of artificial softeners and bleaches.
A product of South Africa, the silk is exclusively imported, and then manufactured and packaged in Cape Town, South Africa.
Energetic Nutrition is the only authorized United States retailer of The Osor Silk brand, and offers both local and international shipping.
For Those Who Need a Little Extra Help to Fall Asleep
The Osor Silk has also developed two types of pure silk sleeping masks from the highest quality silk. Your skin will adore the soft, smooth and luxurious Charmeuse silk while your eyes are sheltered by the cool, dark comfort of these sleeping masks.
Sleeping with 100% organic Osor Silk pillowcases and sleeping masks gives you the best chance to wake up with glossy hair and younger-looking skin that is hydrated and free of creases.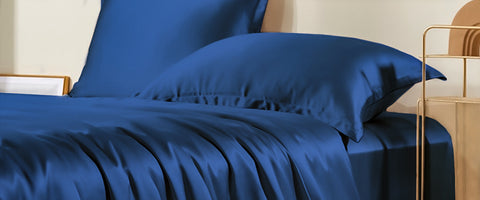 The Osor Silk sleeping masks are 100% pure silk inside and out. Their very elegant, perfectly fitted, lightweight eye shades are made of the softest, lustrous silk that allow your eyes to relax naturally. Silk used in Osor Silk sleeping masks comes from the finest and purest silk. It is fed only chopped mulberry leaves and lives in an area free of pollution for 3 kilometers. Our silk is strictly free from harmful chemicals throughout the entire production process and OEKO-TEX Standard 100 certified.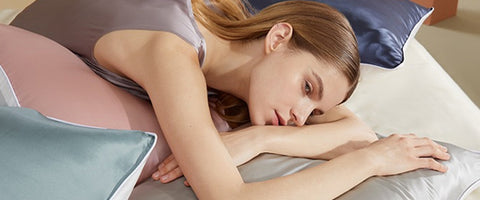 Masks come in two styles: the Osor Silk 100% Organic Silk Sleeping Mask- Standard and the Osor Silk 100% Organic Silk Sleeping Mask – Deluxe. The Standard mask comfortably covers the eye area, while the Deluxe provides more coverage around the face.
The Osor Silk sleeping masks help prevent facial skin from creasing during the night. The soft and smooth surface allows your delicate skin to breathe so the face rests comfortably without pressure on skin. The Satin Silk used will not absorb your valuable night creams, but helps to retain the natural moisture in your skin throughout the night, keeping skin hydrated and nourished.